Gold prices were popping on Friday after a poor jobs report forced investors to cover their short positions.
Gold for April delivery at the COMEX division of the CME was jumping $13.40 to $1,565.80 an ounce. The gold price traded as high as $1,576 and as low as $1,549 an ounce, while the spot price was gaining $13.80, according to Kitco's gold index.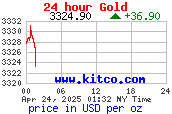 "There's a lot of shorts in the market here," Tom Vitiello, partner at Aurum Options Strategies, said in an interview from the NYMEX. "We had people basically getting out of their shorts during the Cyprus crisis, … once … the perception of it subsided basically the shorts got back in again and they were in control as of yesterday. But today it was quite painful to be short with that number that came out."
Gold prices dipped to a 10-month low on Thursday as the yellow metal charged through technical support to settle below $1,550 an ounce. Despite a small boost in mid-March on uncertainties about the solvency of Cyprus' banking sector, gold futures quickly shrugged off the event and slipped into a downward trend for the past couple of weeks.
The Bureau of Labor Statistics reported Friday that nonfarm payrolls for March added just 88,000 jobs, which was far below economists' expectations. Consensus among analysts surveyed by Thomson Reuters was for 200,000 new jobs in March.
"In terms of people saying it's still tough to get a job and this doesn't feel like a very good market, obviously that's absolutely the case," said Kate Warne, investment strategist at Edward Jones.
Silver prices for May delivery was rising 27 cents to $27.04 an ounce, while the U.S. dollar index was tumbling 0.45% to $82.35.
The unemployment rate edged lower to 7.6% from the previous month's 7.7% rate, but the slight dip coupled with a decline in the civilian labor force by 496,000. The headline unemployment rate may appear positive, but it does not account for individuals who drop from labor force participation. Analysts have argued the drop in participation highlights a less-positive labor market.
Though March's jobs numbers looked weak, gold investors shouldn't read one report as a trend, and the bears may still have more momentum than those looking for upside surprise.
Read More: http://www.thestreet.com/story/11888490/1/gold-prices-pop-as-investors-cover-short-positions.html