It was a stunning start to 2013 with the fiscal cliff issue being resolved at the last possible moment as expected. Markets rallied hard and fast after gapping up leaving me on the side-lines not wanting to chase.
Now we are seeing those awesome gains consolidate and we will see some great setups for higher prices come in the next few days.
The revelation in the recent Federal Reserve notes that they hope to end their bond buying program in 2013 was the worst bluff I've ever seen, yes, even worse than my poker bluff!
They can't stop buying bonds and injecting new money into the system or else it will implode.
This so called announcement was just a test to see how the markets would react and they didn't react well.
In other news, this so called mint the coin campaign is starting to take off but in no way can it ever practically happen.
Basically, a law states that the US can mint a coin that is not a precious metal, so platinum is being touted as the choice, in any denomination and it is legal tender.
The call is for them to mint a trillion dollar coin to basically wipe out the US debt. I'd love to see China and others who hold large amounts of US debt would respond to this.
It would either be nuclear war or the equivalent in monetary terms.
The US would be done for either way.
Not that the US isn't a stronger superpower but even if one missile got through it would change life as we know it.
Let's check out this week precious metals charts who were painted in after hours action in order to confuse the charts.
And please do check out my daily trading ideas free until January 15th.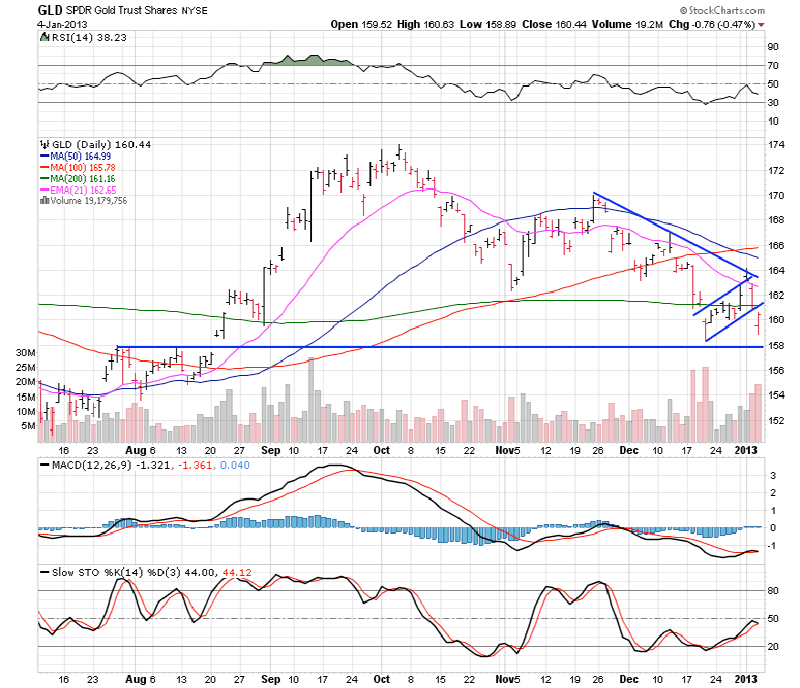 Let's begin with the GLD ETF chart which ended the week down only 0.06% after some wild swings, much of which took place after hours and does not show up on this chart.
The spike higher along with everything else on Wednesday did not see me change my stance that we needed to go lower still before we go higher.
Sure enough, the next day we dropped back into the bear flag pattern and then overnight we dropped much further as I'll show on the next chart of gold futures.
The reason I'm going to show two charts today of gold is that I'm confused. They both paint very different pictures.
This chart, the GLD ETF chart, shows a nice snapback on very heavy volume Friday but we are still below the 200 day moving average as well as the bear flag channel, both of which have me still looking for lower prices.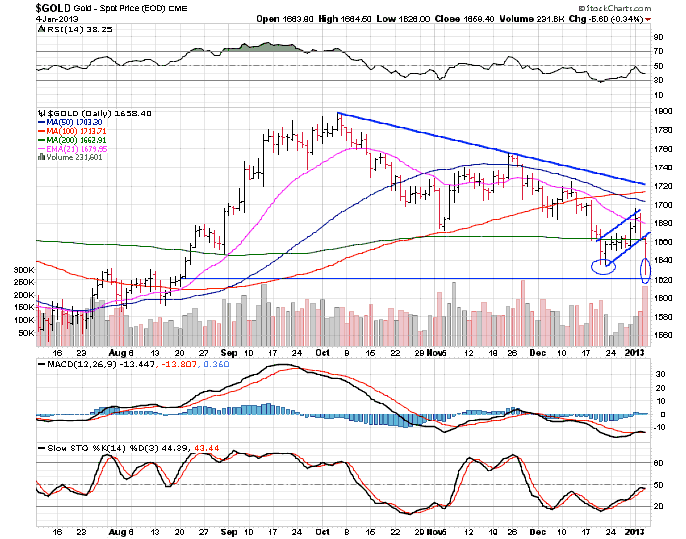 Let's now look at the gold futures chart and see the major difference.
Gold futures themselves were totally flat on the week which means that the important weekly chart printed what is termed a Doji bar. These bars indicate indecision and often times signify a trend change is coming.
Also what's curious is that since most of the drop occurred over night and isn't on the GLD chart which most people go by, the double bottom won't be seen by many.
Friday saw a huge volume day reversal with gold closing at highs of the day after putting in a double bottom. This is very bullish and has to have me say a bottom is now in for gold.
This is painting the tape in plain view and many won't notice it.
Looking at both charts it can be confusing but I am going to go out on a limb here and say the low is in. In fact I'll go even further out on that limb and say I think the low is in for all of 2013 in gold.
Of course I'm wrong all the time and that is why using stops is key.
I think it's safe to get some physical gold here but if trading keep stops pretty tight and enter the trade using intraday charts at proper buy points.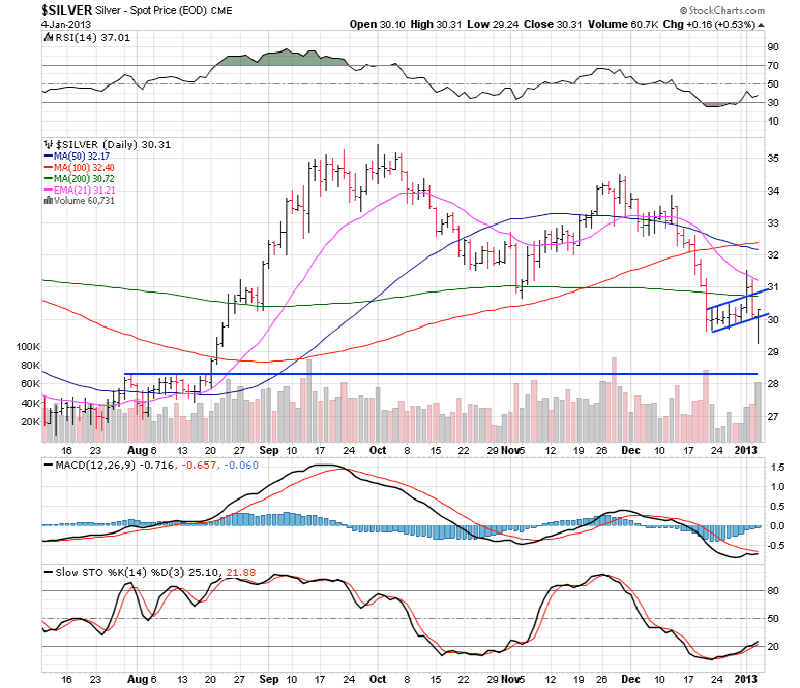 Silver rose 0.66% this past week. The exact same thing occurred in the SLV ETF chart and the silver futures chart as did with gold so I won't show both charts but check the SLV chart out if you're so inclined.
I'd still like to see the $28 level hit but by the looks of things a low is in here now, although it is a little confusing. We will have a much better idea of if the low is now in or not as the week develops and the chart evolves.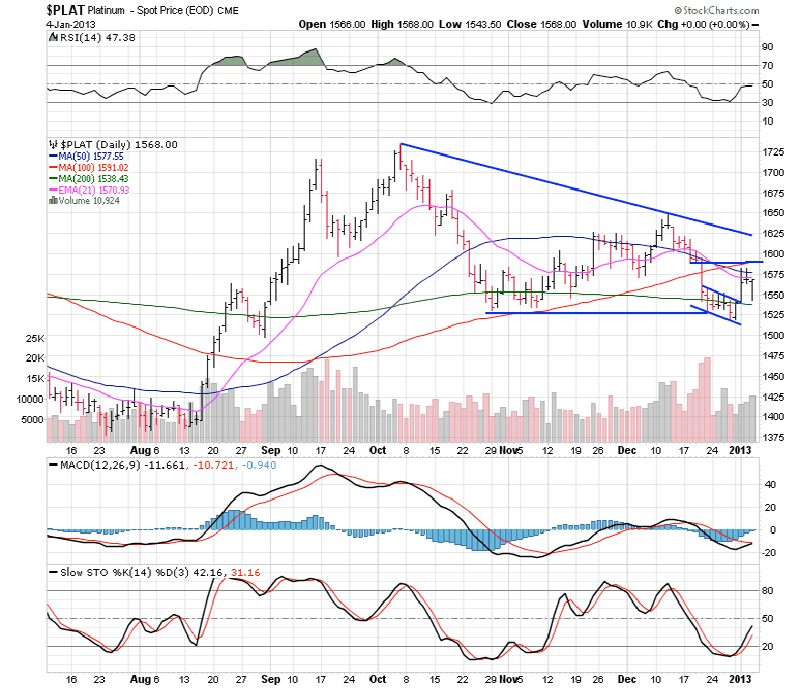 Platinum rose a nice 2.6% after showing traders a fake breakdown below its large triangle pattern. As long as we remain in this triangle we are range bound and I'm looking for the real move out to be higher in time.
We can remain in this triangle for another month or so.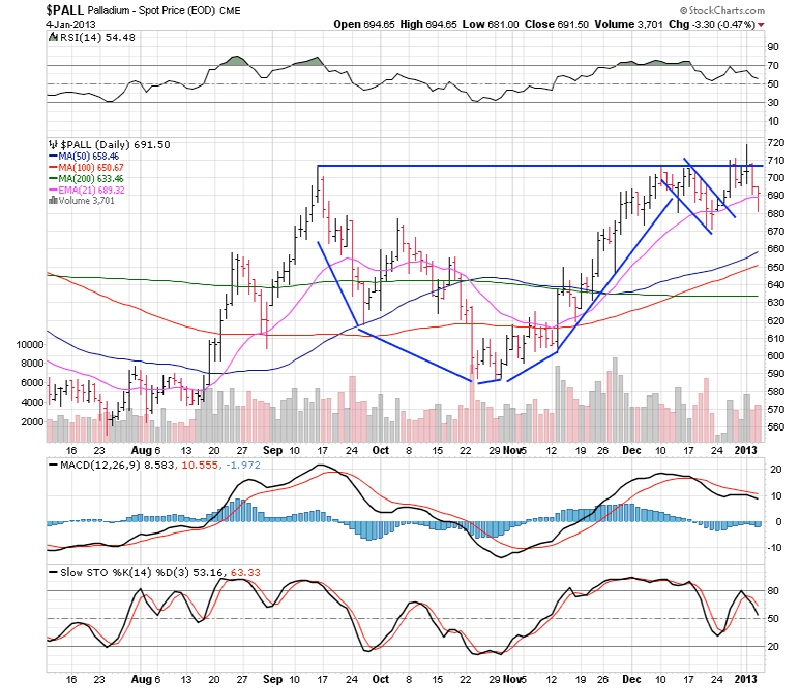 Palladium fell 1.07% this past week after trying and failing to breakout of this nice looking cup and handle pattern.
I talk a lot about what type of market we are in and mentioned often that these days we see great setups followed by a false move only to see the real move begin shortly afterwards.
The market is always trying to shake traders out and I think that is what's happening here with palladium.
Look for a real breakout above the $710 area in the very near future.